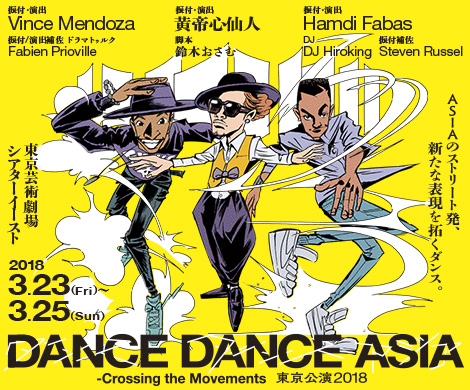 DANCE DANCE ASIA–Crossing the Movements in TOKYO 2018
19:00 Friday, March 23|13:00 & 18:00 Saturday, March 24|13:00 Sunday, March 25, 2018
【Venue:】

Tokyo Metropolitan Theatre (Theatre East)


(1-8-1 Nishi-Ikebukuro, Toshima-ku, Tokyo / 2-minute walk from the West Exit of Ikebukuro Station on JR lines, Tokyo Metro lines, Tobu Tojo Line, and Seibu Ikebukuro Line. Directly accessible from Ikebukuro Station Exit 2b underground passage.)

【Tickets】

General Admission: 3,500 yen (all seats reserved, tax included)
Discounts available for children accompanied by adults
(2,000 yen for children from 3 years old to elementary school age)

Students: 2,500 yen (all seats reserved, tax included)(College, technical school, junior high school, or high school students)
*Students are required to show ID to gain admission.

---

・One ticket is required per audience member.
*No admission for children under the age of 3.
*No commercial resale permitted.
*Wheelchair users are kindly requested to contact PARCO Stage up to the day before the show they intend to see.

---
【For Tickets】

PARCO Stage

81-(0)3-3477-5858

(Mon. to Sat. 11:00–19:00 / Sun. & holidays 11:00–15:00)

http://www.parco-play.com/

* Childcare service available (for 3 months old up to elementary school age)

| | | | |
| --- | --- | --- | --- |
| March | 23 (Fri) | 24 (Sat) | 25 (Sun) |
| 13:00 | | ● | ● |
| 18:00 | | ● | |
| 19:00 | ● | | |

* Each show features all three performances.
【Ticket Agencies/Box Office】details »

* Doors will open 30 minutes before the each performance.
* Day-of-performance tickets will be sold one hour before the each performance.
* Total running time is approximately 2 hours and 30 minutes.
A triple bill of directors, choreographers, and dancers from Japan and Southeast Asia
Hilatas
Vince Mendoza (the Philippines) :Choreographer and Artistic Director
Dancer and choreographer; Vince is the holder of many world titles from competitions and contests. He represented the Philippines at the UK B-Boy Championship – Poppin'. In 2016, he won the first place at Get Down Poppin' in Budapest, Hungary, and for all styles at Together Time in Vietnam. Also in the same year, as "Team X", he won the first place in SDK ASIA 2016. He participated in Juste Debout in 2010, 2012, and 2016 as a dance unit "Prince & Vince". He has choreographed LACOSTE and Diesel shows as well as countless music videos and TV commercials. In 2015, as a member of the "Philippine Allstars", he appeared onstage at the DANCE DANCE ASIA in Tokyo 2015. He introduced his own choreography and directing work in "Hilatas" at DANCE DANCE ASIA in Tokyo 2016. He also presented this work in Hanoi and Manila in April 2017.
Fabien Prioville(France):Associate Choreographer/Director and Dramaturg
After graduating from the highly renowned Centre National de Danse Contemporaine (CNDC) in Angers, France, Prioville worked with Édouard Lock and his company La La La Human Steps in Canada. La La La Human Steps was known for its energetic, creative, and fast-paced physical contact and for collaborating with rock musicians, including David Bowie, Frank Zappa, and others. In 1999, Prioville became a member of the legendary the Tanztheater, Wuppertal Pina Bausch. He has worked as a freelance dancer and choreographer since 2006. In 2010, he founded "Fabien Prioville Dance Company" and now creates his own highly original, thought-provoking works. He was in charge of the composition and direction of Theatrical group EN's "DOUBLE TOMORROW", which was performed in September 2017.
[Dancers]
宇宙 -Space-
Koutei Sennin (Japan) :Choreographer and Artistic Director
Dancer, choreographer, and creative. Koutei Sennin's dance style mixing precisely controlled robotic movements and poetic stories has seen him win numerous leading global dance contests and the Golden Buzzer at Asia's Got Talent. He choreographed and starred in an advertising campaign for UNIQLO, which won 23 awards, including three of the top international advertising prizes, and enjoyed worldwide acclaim. He was also involved with the development of the movements of the robot Pepper at the request of SoftBank CEO Masayoshi Son. At DANCE DANCE ASIA, he previously held performances and workshops in 2015 with his group Time Machine in Kuala Lumpur, Malaysia, and Jakarta, Indonesia, attracting an ecstatic response from fans in Asia. His artist name literally means "Yellow Emperor Heart Hermit," but the middle character for "heart" is not pronounced to acknowledge the enigma of the human mind.
Osamu Suzuki (Japan) :Playwright
Born in 1972. Aspiring to be a TV writer from his high school days, Osamu Suzuki made his professional debut at the age of 19. In addition to handling several popular variety shows, he has also written film and TV drama scripts, essays, and novels, and also works as a radio presenter, and playwright and director for the stage. The film Love x Doc, his directorial debut, is set for release in 2018.
ZAIHAR (Singapore) :Associate Choreographer
Born in 1987, in Singapore, ZAIHAR started dancing as a b-boy, and he has since been awarded numerous championship titles in domestic and international dance battles and competitions, including the 1st Runner-up of Singapore Dance Delight (2016). He has also choreographed and directed a number of works.
As a versatile professional dancer who freely manipulates music, he caught the attention of Shaun Evaristo of Movement Lifestyle in 2011, and he was invited to Bbody Rock in San Diego, the world's largest annual competition, to perform a showcase and workshops.
[Dancers]
Soul Train
Hamdi Fabas(Indonesia):Choreographer and Artistic Director
Dancer and choreographer; Fabas, who was raised in Australia, is a well-known dance icon in Indonesia and has been supporting urban dance culture and the entertainment industry since 1997. This can be seen from his success with two very popular TV shows in Indonesia, on which he acted as a judge. The shows have been on air for more than four years.

In 2003, he founded a break dance community "Bboy Indonesia (Bboyindo)". In 2011, partnering with Sabina Jacintha, a well-known dancer from "P.H.A.T crew", he formed and founded Fabas ART Dance Productions. Along with continuing his own creative pursuits, he has also worked to develop street dance in Indonesia and support young talent through social activities, including being a judge for "MintZ Nge-DanZe GokilZ".
Steven Russel (Indonesia) :Associate Choreographer
In 2000 he joined a group of Breakboys dancers in Jakarta named "South Gank" , he attended various dance battles of any genre. In 2007 Steven joined the United Dance Works (UDW) which is one of the dance companies in Jakarta. He has broadened the field of work internationally as the professional dancer. He currently works for the Fabas Art Dance Company as the assistant choreographer and the coach of the company.
DJ Hiroking (Japan) :DJ
DJ Hiroking is from Tokyo. Having gained tremendous popularity among active dancers, he actively performs his DJ work in domestic and international dance events. His exquisite dance battle mix has earned him the nickname "King of Battle Sound". As a dancer, he is also active at the forefront of dance battles, including being named the 1st Runner-up of BBOY PARK. His compilation album "Dancer's Masterpiece" reached 1st place on the iTunes dance chart and 4th on the overall chart. He attracts attention as a person who connects the real world of dancing and the club scene with the music market.
[Dancers]
ストリートダンスのアートフォームとしての可能性、それを観客に届けたい。
来年3月上演の『DANCE DANCE ASIA―Crossing the Movements東京公演2018』で、新作を発表するヴィンス・メンドーザ。その新作に振付/演出補佐 ドラマトゥルクとして参加するのは、ピナ・バウシュ ヴッパタール舞踊団出身の世界的ダンサー・振付家で、日本の演劇界にも繋がりの深いファビアン・プリオヴィルだ。初めて直接顔を合わせた2人が語るお互いの印象、そして新作に向けての意気込みとは… [MORE >>]

---
【Ticket Agencies/Box Office】
Parste!(smartphone app)
Search "Parste!"

0570-02-9999

(P code: 482-738)
Available from 7-Eleven, Circle K Sunkus, and Ticket PIA branches

0570-08-4003

(L code: 34921)


0570-00-0407

(Operator)
Available from Loppi terminals inside Lawson and Ministop stores

E-Plus http://eplus.jp/dda/
Available from Fami Port terminals inside FamilyMart stores
Tokyo Metropolitan Theatre Box Office 

0570-010-296

(Navi Dial) (10:00 am to 7:00 pm, except on theatre closure days)
*Also available over the counter at the box office
 http://www.geigeki.jp/ti/ (PC)
 https://www.geigeki.jp/i/t/ (mobile)
*Group tickets can be reserved for 8 or more tickets together. See the PARCO Stage website for further information.
【Kid's Room (Childcare)】
Childcare during performances is available at the Kid's Room in the theatre for audiences with infants and small children.(Fees charged. Limited capacity. Reserve up to 1 week in advance.)
Reservation and Inquiries:HITOWA Career Support Co., Ltd. WARABEUTA 0120-415-306(9:00 am to 5:00 pm except on Saturday, Sunday, and holidays)

---
【Credit】
■ARTISTS
『Hilatas』
Vince Mendoza (the Philippines) :Choreographer and Artistic Director
Fabien Prioville(France):Associate Choreographer/Director and Dramaturg
Costume Design/Production:Hitomi Tsuchida
Dancers:
Bboy Allen (the Philippines) / Bird (Singapore) / Khenobu (Malaysia) / Naoko Matsuda(Japan) / Rhosam V. Prudenciado Jr."Sickledsam" (the Philippines)/ Salt (Indonesia)
『宇宙 -Space-』
Koutei Sennin (Japan) :Choreographer and Artistic Director
Osamu Suzuki (Japan) :Playwright
ZAIHAR (Singapore) :Associate Choreographer
Music Production:TA☆1from BAMBOO
Costume Design/Production:Tomo Fujita藤田友
Dancers:
James Wong (the Philippines) / Miyu (Japan) / Pythos Harris (Indonesia) / You Kaneko (Japan) / ZAIHAR (Singapore)
『Soul Train』
Hamdi Fabas(Indonesia):Choreographer and Artistic Director
Steven Russel (Indonesia) :Associate Choreographer
DJ Hiroking (Japan) :DJ
Music Production:Aldhan Prasatya & Devinza Kendranata
Costume Design/Production:Tomo Fujita
Dancers:
B-boy Cheno (Thailand) / Le Huu Phuoc (Vietnam)/KATSUYA (Japan) / NOVIE ONE (Indonesia) / TECCHY (Japan)
■STAFF
Stage Manager / Technical Director:Hitoshi Yoshiki
Stage Manager:Tatsuya Dobashi
Stage Manager:Nanao Kobayashi
Assistant Stage Manager:So Suwa
Lighting Design:Tai Morishita(LIGHT SHIP)
Lighting Design:Kumiko Akutagawa(LIGHT SHIP)
Lighting Operator:Kazuki Yamashita(LIGHT SHIP)
Chief Sound Operator:Gakuji Okumura(Sunphonix Corp.)
Sound Operator:Ryosuke Takatsu(Sunphonix Corp.)
Front of House Management:Hiroyuki Shindo(need direction system Co., Ltd.)
Catering:Marie Miyo(need direction system Co., Ltd.)
Body Maintenance:Sports Conditioning Salon RIMCE、Family TAS Massage
Show Management/Assistant Production Manager:Junpei Ooya(f-Square Co., Ltd.)
Production Manager:Jun Akimoto
Production/Interpreter:Sana Matsuda/ Suzu Sakai(PARCO Co., Ltd.)、Shizuko Shimizu、Chiemi Fukumori
Production Assistance:Motoji Fukushima/ Yoshino Saito(f-Square Co., Ltd.)
Interpreter:Morgan Shimizu、Hiromi Kubota(MANOHARA Co.,Ltd)、Nabi Kunisada、Ai Sari、Kevin Bondoerffer
Illustration:Santa Inoue
Photography:Yosuke Kamiyama、Masato Yokoyama、Suradet Canda (Fellow Production)
Design:Shinji Honda
PR Direction:Atsushi Kosugi
Public Relations:Hitomi Sakonju
Website:Kaya Yamasato/Akemi Oikawa/Hirotaka Nakabayashi(KAYAHAT Co., Ltd.)
Social Media Publicity:Akiko Ueno/ Tomomi Imura(LAST TRAIN GETTER Inc.)
Official Video
"Hilatas"
Production:Handreas Stefano (Salt), Suradet Canda (Fellow Production), Thad Prasert (THE ZOO Thailand)
Supervisor:Handreas Stefano (Salt)
"宇宙-Space-"
Production:Tomoyuki Ikeda/ Yukari Itabashi/ Yusuke Namiki(SEP Co., Ltd.) 
Director:Takuto Shimpo(SEP Co., Ltd.)
Producer:Hazuki Hasegawa(SEP Co., Ltd.)
Program/Poster/Flyer Production:
Editor:Atsushi Kosugi
Design:Shinji Honda
Illustration:Santa Inoue
Photography:Yosuke Kamiyama
Printing:Tadashi Hoshikawa、Kosuke Hoshikawa (Printing Co., Ltd.)
■Supporters:
Aerotech Co., Ltd/Smile Company Ltd.、Time Machine Inc.、DanceFact / KADOKAWA CORPORATION、Recognize! Studios
■Special Thanks:
Angela Low、Tatsuro Ishii、LDH JAPAN Inc.、EXILE ÜSA(DANCE EARTH)、Theatrical group EN、Yusuke Ozawa(En Dance Studio)、KATSU 1(IAM Co., Ltd.)、Taisuke Nonaka、MIKIKO(ELEVENPLAY)、Rhuzanji Company、Pichet Klunchun/ Sojirat Singholka(Chang Theatre)、Quanchanok Rongvararoj/ Thad Prasert(THE ZOO Thailand)、Sun Tawalwongsri (Suan Sunandha Rajabhat University, Faculty of Fined and Applied Arts)
■Organized and Planned by:
The Japan Foundation Asia Center
PARCO Co., Ltd.
Gen Sato、Tomohide Sobue、Atsushi Tanimura、Ichita Yanagihara、Kiyoko Tanaka、Akira Miyake、Mai Nakano、Noriko Okawa、Shiori Omiya、Kimihiko Nakamura、Masaki Takahashi、Kie Kawashima、Moe Yamaguchi
Tickets:Junko Ogi、Hanako Fukuda  
Production:
Hiroko Tsuka (The Japan Foundation)、Hajime Inoue (PARCO Co., Ltd.)
Producer:Sachiko Nakanishi (PARCO Co., Ltd.)
The Japan Foundation Asia Center
4-16-3 Yotsuya Shinjuku-ku Tokyo 160-0004
http://jfac.jp
PARCO Co., Ltd. Entertainment Div.
Shibuya First Place 8-16 Shinsen-cho Shibuya-ku Tokyo 150-0045
http://www.parco-play.com/
This post is also available in: Japanese