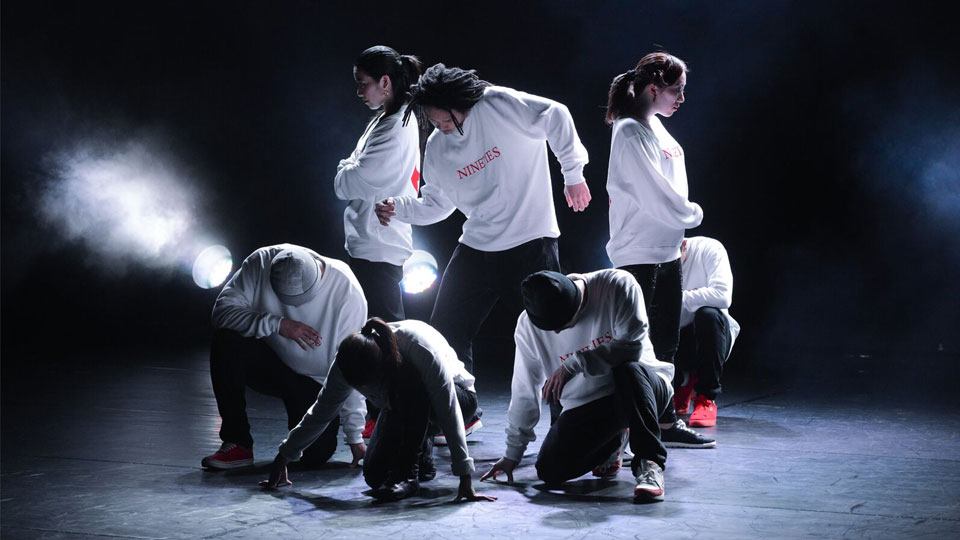 DANCE DANCE ASIA – Hanoi, Vietnam (2015/03)
Post-Event Interview
90's / "We want to see 90's branches in other countries around the world!"
This was the first time any of the 90's members had visited Vietnam. What did they discover there, and what did they bring back to Japan with them? We spoke with two of the crew immediately following the Hanoi tour.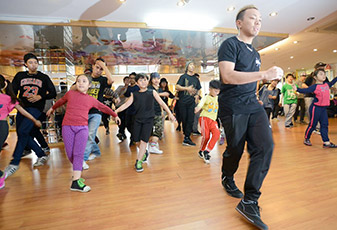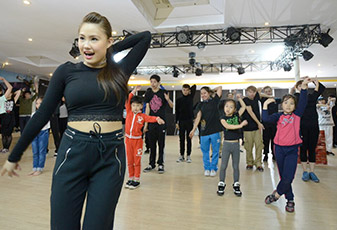 What was it like doing a workshop in Hanoi?
TAISUKE : Before we went there, I was expecting there to be a really big b-boy (breakdance) scene, because there's this Vietnamese unit called S.I.N.E that made it to the semi-finals in a big tournament in 2014, but I had no idea what the dancers there were going to be like. When we got to the workshop place, there were all these little kids doing headstands, so I thought, OK, they're all into breakdancing, but there were lots of participants that wanted to try other genres too. We worked on breaking moves for the first hour or so, and then for 30 minutes or so afterward people separated into groups, and we did house, hip-hop, and breaking. It was really an eye-opener to see all these kids doing hip-hop and house dancing.
Ruu : The Vietnamese kids were so full of curiosity. They reacted way more dramatically to things than Japanese kids do, and they had so much energy, they would start moving as soon as the music came on. Their energy was contagious, we were energized too!
Doing the workshop, I felt like Vietnamese people see things in a different way, and they're eager to absorb new things. When we taught just a single step, they would react like "Whoa!! What's up with this step?!" And they were so hungry to learn, different from Japan where there's no shortage of lessons and workshops. I travel all over Japan teaching and doing workshops for kids, and I hope I'll be able to communicate that kind of energy and enthusiasm back home too.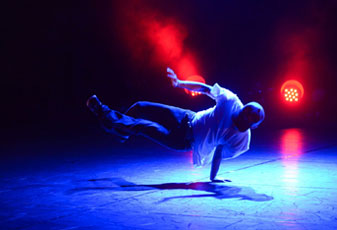 What kind of piece did you plan for the performance?
TAISUKE : It was Ruu's idea, we had the concept of deciding on specific countries and going on a "trip" there, and to me that idea took on a deeper meaning. While we were working on it, it struck me that dance has no limits and can easily cross borders, it's really an international language.
Japanese people have trouble communicating in most other countries, but dance easily breaks through those kinds of barriers. You can easily become friends with someone, like "Oh, you dance? Hey, I dance too!" I thought it would be great if our performance conveyed something like that to the audience. There are cultural differences between countries, but I believe expressing emotions and sharing things in common is what dance is all about. I'm happy to say, I think we got that across in our show.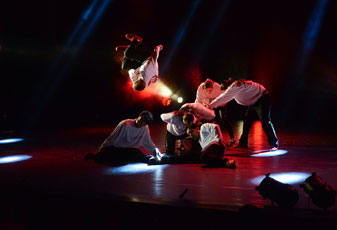 How was the audience response?
TAISUKE : People there aren't shy, they're very open. In Japan people don't really tend to express their feelings much either through words or body language, so I was totally blown away by that!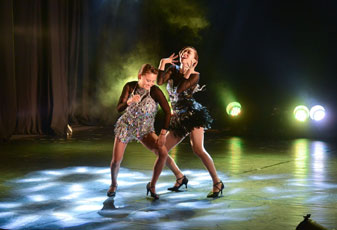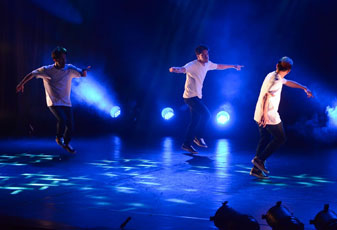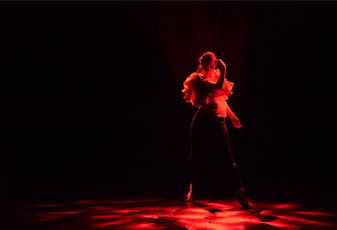 What are your goals for the future, both as the 90's and as individuals?
Ruu : As a part of the 90's, I want to travel around the world to do performances and workshops, and be seen by as many people as possible. Whether it's live on stage or through some kind of media, it doesn't matter how, but I want the 90's to get more famous!
From now, what I'd love for us to do is change our name to The90sJPN and be the Japanese wing of an international network, where dancers born in the 1990s in other Asian countries like Vietnam form their own 90's crews, and it grows into something big.
Personally, I'm into production and the creative side of things. Right now I'm loving working with the 90's, but in the future I want to get together younger dancers, like born in the 2000s, or even after, and produce their shows. I want to be someone who helps enthusiastic young dancers grow and gives them valuable experiences.
TAISUKE : Until now, when the 90's has had a project it's been like, "Let's all try this together," taking on new challenges as a group, but I think from now on we need to be more of a genuine team, and function as a real organization.
I think if there's something you want to do and you can't do it yourself, that doesn't mean you should give up. If each of us can tell other team members what we want to do, share and communicate, then the sky's the limit.
As for me, I feel I've gotta keep doing what I'm doing with the 90's, and also with this other unit that I'm the leader of, THE FLOORRIORZ. I also feel a responsibility as a part of the Japanese b-boy scene, to keep that going. It's a lot of things to be doing at once, but I want it all to connect and be a synergy. I'm confident that if I take action, younger people will take the cue and follow. If dancers want to work with me, I want to give them the chance, whether it's in shows on stage or in battles. As far as I'm concerned, there's no reason to separate the two, like "battles are battles and shows are shows." I think when you can do both, that's when you're a real professional, and I want to share that philosophy with younger dancers.
Posted – 2016.08.24
This post is also available in: Japanese
ARCHIVES