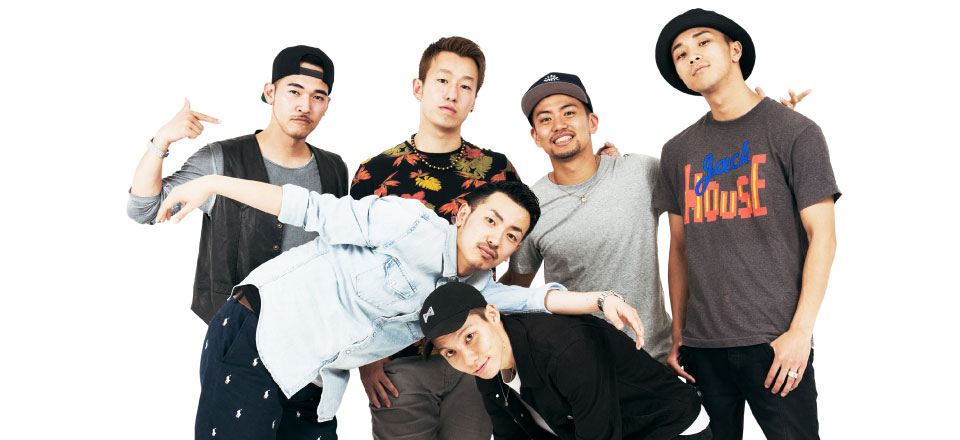 A tornado of young talent that wowed the judges and got perfect scores in Italy!
RECKLESS
RYUICHI / YOSHIKI / BAFARIN / ICHI / KTR / Prince Twiggz
This dance groupcrew was formed in 2014 to enter the international street dance competition STREET FIGHTERS, held each year in Italy. The members are RYUICHI & YOSHIKI, the Mad Skills Styler who hold the title of Asia champions; BAFARIN & ICHI, who together represent Ibaraki Prefecture as they tear up numerous dance battles both in Japan and overseas; and KTR & Prince Twiggz, known for their mastery of the krumping style.These six share a dedication to dance, plus name recognition based on their unstoppable skills.
The group is overflowing with young talent highlighted by a playful and inventive approach to composition and choreography: all members moving in perfect unison even to breakneck rhythms, routines with video games as a motif, and the six members moving around to create living pictures in time with the music are a few examples. They easily won the Japanese qualifying round and represented the nation in Italy, where they clinched the Showcase division by fusing the three genres of pop, locking, and krumping, which the international championship judges unanimously awarded the highest possible score.
Reckless: it's no exaggeration to say that the word was made for this bold and unconventional group.

<DDA Cast history>
2015.08 Indonesia, Jakarta

This post is also available in: Japanese