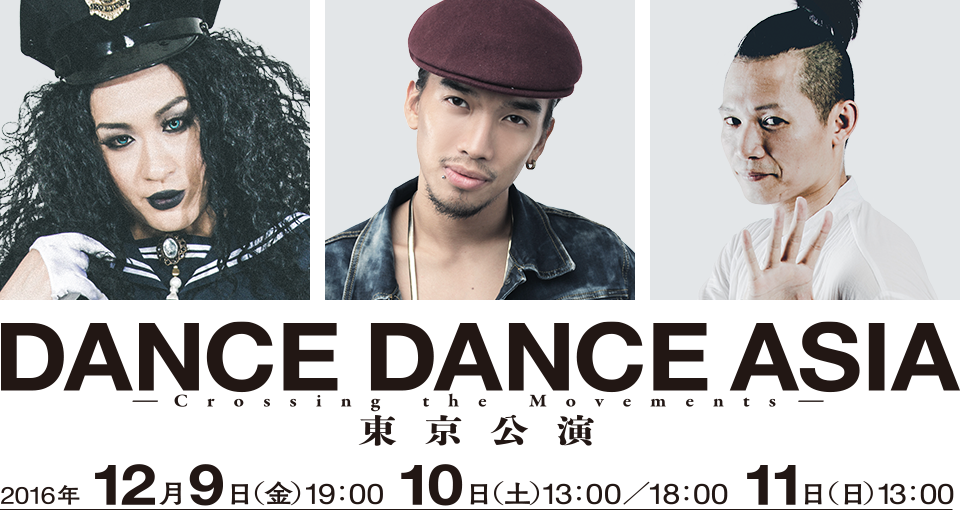 ABOUT


DANCE DANCE ASIA―Crossing the Movements strives to generate innovative currents in culture by encouraging co-productions and collaborative exchange for stage performances among various dancers and creators in the surrounds of "street dance" in Asia. Now in its third year, three teams lead by outstanding creators from Japan, the Philippines, and Vietnam bring to you their dance mashup.
Taste dance at its best!
PROGRAM
Team MIKEY
Black Lip Boyz
Choreographer and Director
Munetaka Maki
MIKEY from TOKYO GEGEGAY (Japan)
Assistant Director
BOW (Japan)
Performers
A-Yao Ninja
(Taiwan)

El-John
(Philippines)

kEnkEn
(Japan)

RenZ
(Philippines)

TeDoubleDy Teddy
(Malaysia)
*Regions and countries are in parentheses
This team is led by Munetaka "MIKEY" MAKI, the first street dance artist to win the prestigious Japan Dance Forum Award. MIKEY has assembled BLACK LIP BOYZ, a wild and bewitching team of young male dancers especially formed for this performance. The luscious traps set in MIKEY's unique world will lure you into a dance from which there is no escape. You'll never think dance can be boring ever again!
Team VINCE
HIlATAS
(The Light that Guides You)
Choreographer and Director
Vince Mendoza "Crazybeans"
from Philippine Allstars (Philippines)
Performers
Bboy Allen
(Philippines)

Bird
(Singapore)

Khenobu
(Malaysia)

Naoko Matsuda
(Japan)

Rhosam V.
Prudenciado Jr.
"Sickledsam"
(Philippines)

Salt
(Indonesia)
Bass, Kubing
(Filippino jaw harp)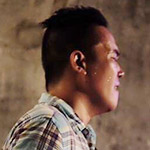 Carlo Bernardino (Philippines)
※DJ MED MESSIAH will not be performing live due
to unexpected circumstances.
Vince Mendoza has won titles at street dance contests all over the globe. Based partly on Mendoza's life, Hilatas (The Light that Guides You) conjures up a vision of always looking forward in pursuit of your dreams, and never looking back even in the face of adversity. Witness history in the making with this masterpiece of a show that condenses a wide range of dance styles, from street to contemporary and acrobatics.
Choreographer and Director
LION T
(Vietnam)
Assistant Director
Maitinhvi (Vietnam)
Performers
C2Low
(Vietnam)

HOSHITO
(Japan)

Jackson Boogie J
(Malaysia)

Maitinhvi
(Vietnam)

MARIN
(Japan)

Michael Sim
(Singapore)
Human Beatbox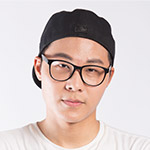 MK (Vietnam)
It's not about the money! As the leader of Big Toe Crew, Vietnam's first hip-hop dance group, LION T has taken the dance world by storm. He has also produced stage shows in Europe and North America, though his diligence is not all for his own glory. In partnership with friends and family, his work is imbued with the sincere messages for building a better society that he wants to share with the world.
SCHEDULE
Friday, December 9 – Sunday, December 11, 2016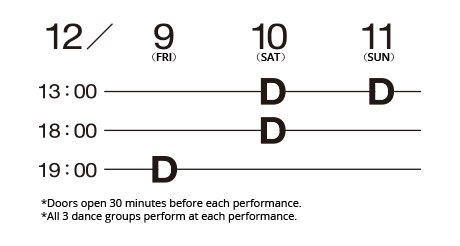 VENUE
Theatre East, Tokyo Metropolitan Theatre
(1-8-1 Nishi-Ikebukuro, Toshima-ku, Tokyo)

2 minutes' walk from the West Exit of Ikebukuro Station
on the JR Line, Tokyo Metro,
Tobu Tojo Line, and Seibu Ikebukuro Line.
(Direct connection to the theater from Exit 2b.)
TICKETS
---
Adults: 3,500JPY

Students: 2,500 JPY (junior-high, high school, university)

Children: 2,000JPY (age 3 to elementary school)


*Prices include tax
* All reserved seats
* Entry is permitted on presentation of a ticket
*Students must present their student ID at entrance.
*Children must be accompanied by an adult.
*Group Tickets (for over 8 persons) are available. Please visit the PARCO Stage website.
*Reselling of tickets is strictly prohibited.
*Customers with wheelchairs are requested to inform the PARCO Stage Information Office of their seat number in advance.


Tickets can be purchased at:
●PARCO Stage (Smartphone app)
●Ticket PIA LINK
0570-02-9999 (P code: 454-658)
●Ticket PIA stands in Seven-Eleven and Circle K Sunkus stores
●Lawson Ticket (LOPPI) stands in Lawson and Ministop stores LINK
0570-08-4003(L code:31520)
0570-00-0407(Operator)
●E-plus LINK
Fami ports in Family Mart stores
●Tokyo Metropolitan Theatre Box Office
PC LINK
Mobile phone LINK
0570-010-296(10:00-19:00)
*Japanese-language operator only. Domestic calls only.
*Tickets can also be purchased at the Box Office (except on closed days)


Childcare Services
Available for visitors with children between the age of 3 months and pre-elementary school.
For reservations and inquiries, contact:
Shogakukan Shueisha Production LINK
03-3981-7003
(Weekdays only, 10:00-17:00. Closed Saturdays, Sundays, and Holidays)


Inquiries:
PARCO Stage Information Office
03-3477-5858 (Mondays-Saturdays 11:00-19:00 / Sundays and Holidays 11:00-15:00)
http://www.parco-play.com/
This post is also available in: Japanese