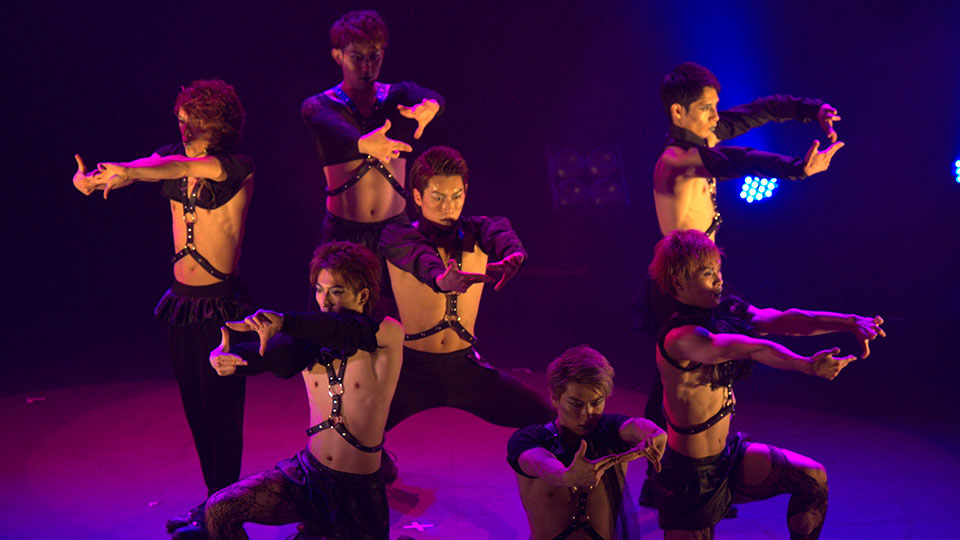 DANCE DANCE ASIA – Kuala Lumpur, Malaysia
Post-Event Interview
BLUE TOKYO / No words needed: a workshop where hearts and minds connected.
BLUE TOKYO's fresh, dynamic, and enthralling dance performance had the audience in Kuala Lumpur abuzz with excitement. During the workshop, it was deeply impressive how all the group's members interacted and shared smiles and conversation with each and every participant. From the post-event interview with team leader Kyohei Oshita, it was evident that the members of BLUE TOKYO also enjoyed the tour to the fullest.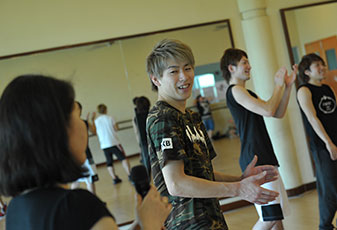 Was Kuala Lumpur different from how you imagined it before going there?
Kyohei : Actually, it was just the way I imagined a vibrant Asian city would be. We had a fantastic time visiting all sorts of places, like bustling downtown areas and streets full of vendors' stalls.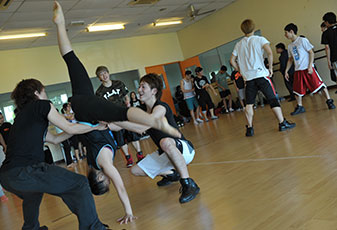 What was tough about putting together the performance you staged there? What about it went off the way you hoped?
Kyohei : We put on a really long performance, 20 minutes. It was full of fierce movements that use tons of physical energy, so I guess we geared ourselves up for it even more than usual, but our basic approach and stance were no different from always. I think the audience got a good sense of what the BLUE TOKYO style is all about.
The opening piece of music was Beethoven's Moonlight Sonata, and the choreography didn't have many moves in it, meaning the atmosphere was everything, and I have to admit it was a struggle to express our worldview. It's a tricky piece of music to dance to and convey emotions to, not the kind where you just dance your head off. We took a delicate approach to it.
During the finale, we incorporated tons of acrobatics, which is BLUE TOKYO's specialty. Overall, the performance had no shortage of variations in speed, dynamism and all that!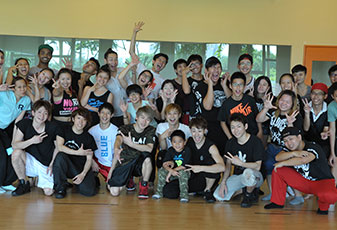 How did you feel when you first got the offer to do this?
Kyohei : It was an offer to perform in Asia – overseas – and to work alongside some of Japan's top dancers, so as new participants in this program, we were kind of a bundle of nerves, to be honest (laughs). However, we were determined to do our best and show we were worthy, and everybody was really excited about it.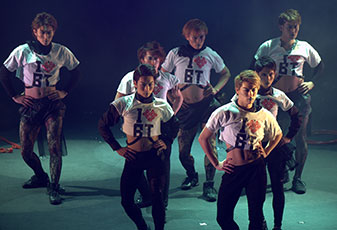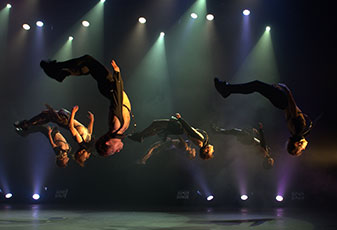 What kind of impression did the workshop, the performance and the tour as a whole leave you with?
Kyohei : On the tour, we spent our free time sightseeing, eating, and soaking up the local atmosphere. What made the biggest impression on me was the workshop. It was a great opportunity to engage with local people, and I was really struck by how you can bond with someone even when you don't speak the same language.
All the members of BLUE TOKYO are also dance teachers, on an individual basis, but this was the first time we had the chance to do a workshop like this all together. The workshop attendees were of all different ages, which was kind of challenge in some ways, but they were all really into it, lively and fun, and that made them really easy to work with.
Before the workshop, I was worried about the language barrier, but once it got underway there was no need for language anyway. We communicated naturally without words, got into the same space and engaged with one another, and it was just a lot of fun. Of course it's great when you can understand what somebody is saying, but during this workshop I would gesture or speak and they would show a clear reaction to it, so it didn't seem like a big deal… there was no "language barrier."
One thing that surprised me was that in Malaysia, you can't get your hands on an exercise mat (laughs). I learned not to take things for granted!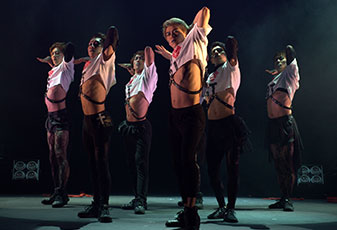 So what is the future outlook for BULE TOKYO?
Kyohei : We don't want BLUE TOKYO to be just a troupe of acrobats – we want to show people a new style of entertainment, one that effectively blends dance and rhythmic gymnastics. Of course in terms of the street dance aspect, it's essential that we keep building up our skills, but basically what we're all about is a dance team that does things only men's rhythmic gymnasts are capable of, and we intend to keep on doing that.
Personally, I want to get to know much more about other cultures, including dance culture. On this tour, we got to experience an atmosphere and meet a lot of people who were different from Japan's, and I hope to do the same kind of thing in a lot of different countries in the future.
Also, we're not just a unit – each of us has his own individual thing going on, and I hope people will check that out as well!
Posted – 2015.08.12
This post is also available in: Japanese
ARCHIVES