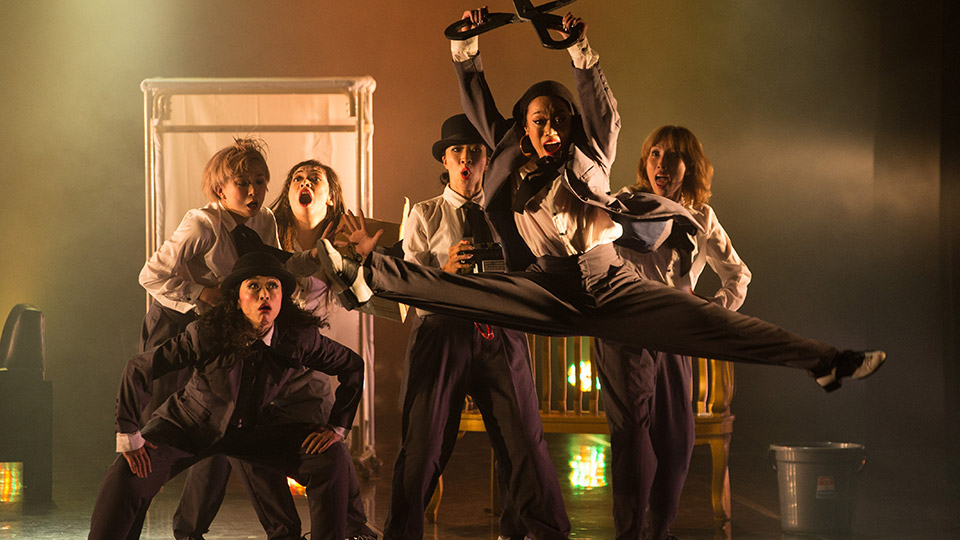 DANCE DANCE ASIA – Jakarta, Indonesia (2015/08)
Post-Event Interview
Red Print / Turning the gaze and cheers of the audience into energy
This Jakarta tour marked the first performance abroad for Red Print since they formed just one year ago. What did they feel in Jakarta, and what are they trying to achieve hereafter? We interviewed MIHO BROWN, one of the members, and Makoto Ozeki, the director of Red Print.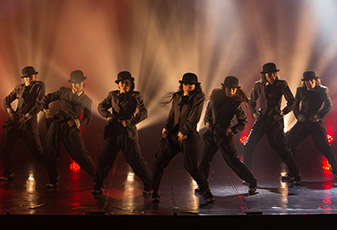 What did you hope to express most through your performance?
MIHO BROWN : It was our first time to perform abroad where we have to deal with the barriers of language, culture and national borders. So far, our pieces have been heavily story-based, so we were really anxious about telling our story only through dance, without any words this time. We explored how much we can communicate by being conscious of our commonalities as human beings, but most of all, we aimed at entertaining the audience with our dance and performance.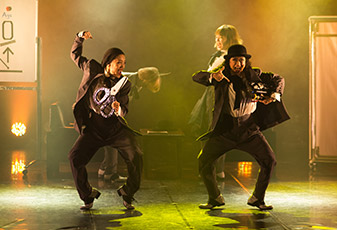 How was the performance received by the audience?
MIHO BROWN : They were incredibly warm. I was really touched and received a lot of energy from their gaze and cheers. It was also great that we were able to hold workshops before the show and interact with folks in Jakarta. Some workshop participants sat in the front row during the show and danced with us the choreography we had just taught them at the workshop.
Makoto Ozeki : I thought they were good at having fun at each moment. Indonesians are experts at "fully enjoying the right here and right now", which we Japanese aren't usually good at. They expressed that openly and it felt really good. Though Japanese tend to be modest, I thought it would be good for us to be more expressive. I felt that it's important for us to create pieces to encourage Japanese people to be like that too.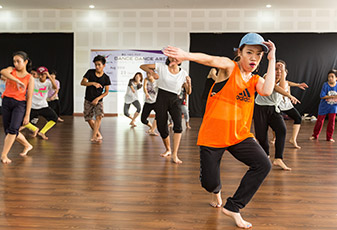 Could you share with us what impressed you the most during the workshop?
MIHO BROWN : There's a movement where you push your way through the tall grass with your arms, and when I taught them that, I said "Imagine that you are now pushing away all the hardships in your life, the evil thoughts and the weakness in yourself, and heading towards a ray of light!" They went "Ohhh" and got it right away, and changing their movements, I really felt that it liberated their heart. Of course, dance skills matter but more than that, witnessing their passionate transformation really impressed me.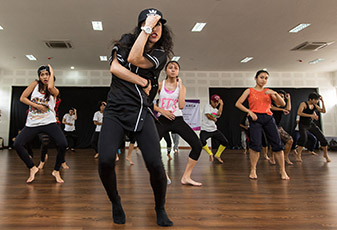 How did you like the exchange with the children in Jakarta?
MIHO BROWN : It was my first time to interact with local children in other countries. I've had an opportunity to interact with students at an American school in Japan, but they understood Japanese language and culture. So it was different this time with 100% Indonesian kids. We were a bit anxious in the beginning but we found that they had done some research about us on their own, and it was actually so easy to make a connection with them. And we felt that we were able to communicate even with the children who didn't look us up in advance. That was the most precious thing for me from this trip.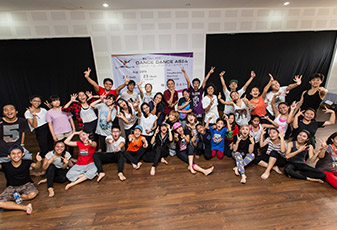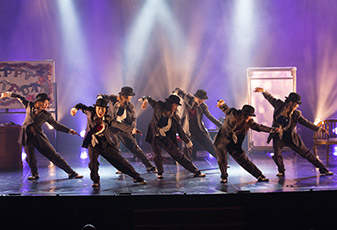 How did you find this tour to Jakarta?
MIHO BROWN : I felt that music and dance give us the answer to unite all of us as one, going beyond language, culture and national borders. I dance because I just love it, but at the same time, it's my job so I couldn't stop putting a lot of pressure on myself to produce better results and setting hurdles that I felt like I had to get over in my mind. And then I often ended up being stressed for not getting over them.
However, coming to Jakarta and feeling that "Everyone here is really being touched!", it made me remember a lot of things I had almost forgotten, like the movements I like or how to tune in to the music. I really felt that I shrugged off all the waste that had been bothering me and that my soul had been purified. So I'm really thankful.
Makoto Ozeki : I had so much fun. The passion of the local folks was fantastic, and we learned a lot as Red Print.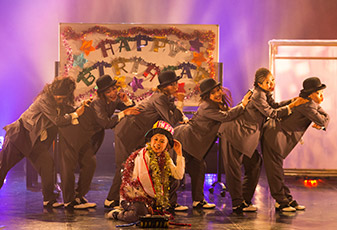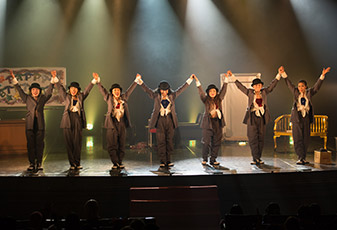 What kind of a performer are you trying to become?
MIHO BROWN : I want to show our human side or way of life through our dance. I want to be a performer who can communicate how to perceive and think about things even while showing our weaknesses. For that, I believe we need a mind like the universe that expands unlimitedly, and the skill to properly pull out the world view from there. I want to keep on honing this skill while maintaining my passion. No matter how high or low we're feeling, we want to face the stage, music, and dance honestly, and create a piece that lets the audience feel our way of life.
Makoto Ozeki : I'm always telling myself "There's no difference between the dancers and the actors". I often tell it to the members, too. Whether you're a dancer or an actor, you're both a performer in that you are both expressing emotions. The only difference is that the actors express themselves through words as their weapons, while dancers show it physically without words. I think it would be interesting if Red Print came to be able to do both.
Also, I really want to value the unique characteristics of individuals. It's not so interesting if every dancer dances a certain choreography in the same way. Japanese dancers are really good at dancing in unison. That's great in a sense, but dancers from other countries dance with individual strength, which you don't see much in the Japanese. So, if we Japanese, who were raised in an environment that highly values uniformity, can get such individual strength, we may be able to deliver even greater world-class performances. I hope Red Print will continue to develop these kinds of performers with unique characteristics.
Posted – 2016.08.02
This post is also available in: Japanese
ARCHIVES