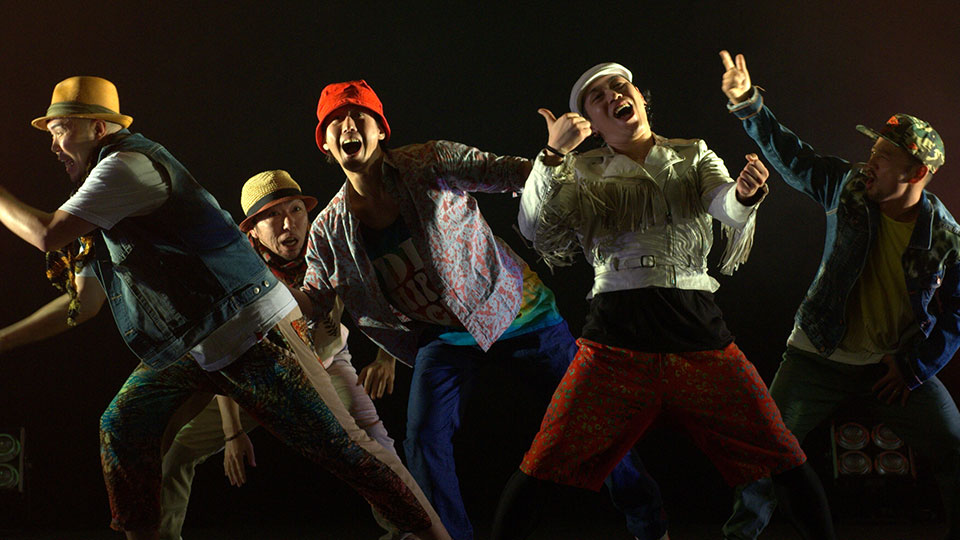 DANCE DANCE ASIA – Kuala Lumpur, Malaysia
Post-Event Interview
WRECKING CREW ORCHESTRA / Pioneers seeking to spread street dance worldwide
At the Malaysian event, Wrecking Crew Orchestra took center stage with their spectacularly entertaining performance. In an interview, leader YOKOI discussed the passion for street dance that has made his team leaders in the scene. He has a message about the spirit of dance to deliver to dancers not only in Japan, but all over Asia.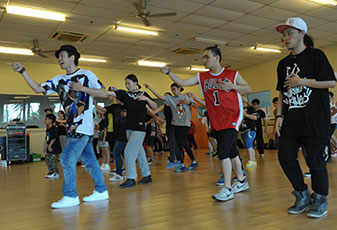 I understand you've been performing in Singapore. What led you to that?
YOKOI : We met a crew who were putting together a big Asian dance festival in Singapore, and they invited us to take part. This is the seventh year this year, but when we first went there even though the scene was really small, there were maybe 3,000 people in the audience. We did a showcase that lasted an hour or so, nobody had seen anything like that before and they gave us a standing ovation! After that we were invited back and we've been going there since.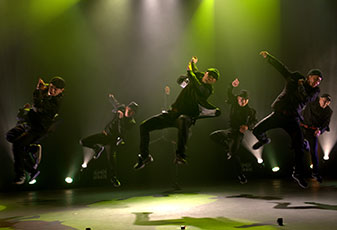 It looks as though the dance scene is moving toward maturity in Asia as a whole, but as for street dance in Japan, how is it different today from when it was just starting out?
YOKOI : I think it has something to do with national character, but in Japan people tend to focus obsessively on one thing. Street dance is a cultural phenomenon that originated in America, but there it's more diverse and dependent on the music, with people dancing different ways to hip-hop, soul, funk and so on. I think it was really in Japan that people first turned street dance into a definitive genre.
At first people in Japan were imitating what went on in America, but they focused on one particular area and pursued it to the extent that they made it their own. I think it was the Japanese spirit of craftsmanship that gave rise to the Japanese dance scene of today, which has produced top dancers who are internationally recognized.
And I think when Japanese dancers travel to all kinds of different places, this attitude of doing things in a thorough manner will spread.
We're the first generation of Japanese dancers to establish a presence on the world stage, and there are a lot of great, world-class dancers among us. However, we're all still doing our own individual thing. If we can come together more, and build more bridges with other countries, the community will be richer and we'll see even greater things from the scene. Things like DANCE DANCE ASIA.
Our group has been doing things in various countries, all over, for some time now, but with this project I felt like, "All right, Japan as a nation is finally taking steps to turn dance into a medium for cultural exchange." Until now, we had been trying to do something like that on our own, so we're really happy that a project like DANCE DANCE ASIA, led by a big organization, is stepping in to take it on.
I think this project is really significant in terms of connecting Japan and the rest of Asia, and getting Japanese dancers bigger audiences in other countries. I think it's also a terrific experience for young people throughout the Asian region.
In street dance like we've been doing, a common spirit is really crucial. That's why in situations like workshops, I think it's crucial that you enjoy dancing together, and not just teach techniques, but engage in profound communication using the common language of the body, even if verbal communication isn't possible.
When you go somewhere where people are doing street dance, you always see a lot of smiles. If we can spread that spirit and that message to more and more people, I really believe we can get everyone smiling, and make everyone happy.
Over the seven years that we've been going to Singapore, the dance scene there has completely changed. One of our members, TAKE, is a house dancer, but when we first went to Singapore no one there had even heard of the house dance genre, no one had done it and no one even knew what house music was all about. You could really say that he created the Singapore house dance scene single-handedly. Because we kept appearing there, there were local people who devoted themselves to practicing the style, and they sought out information about the genre and really came into their own as dancers.
I believe if people keep interacting, in all different scenes, then everyone will grow as a result, and people will persist at what they're doing, not just try things once or twice. If we can achieve that, the dance community in Asia will grow and grow, and it will truly be recognized as a global community. And I believe that here in Asia, it's the role of Japan to drive this forward.
Posted – 2015.08.12
This post is also available in: Japanese
ARCHIVES