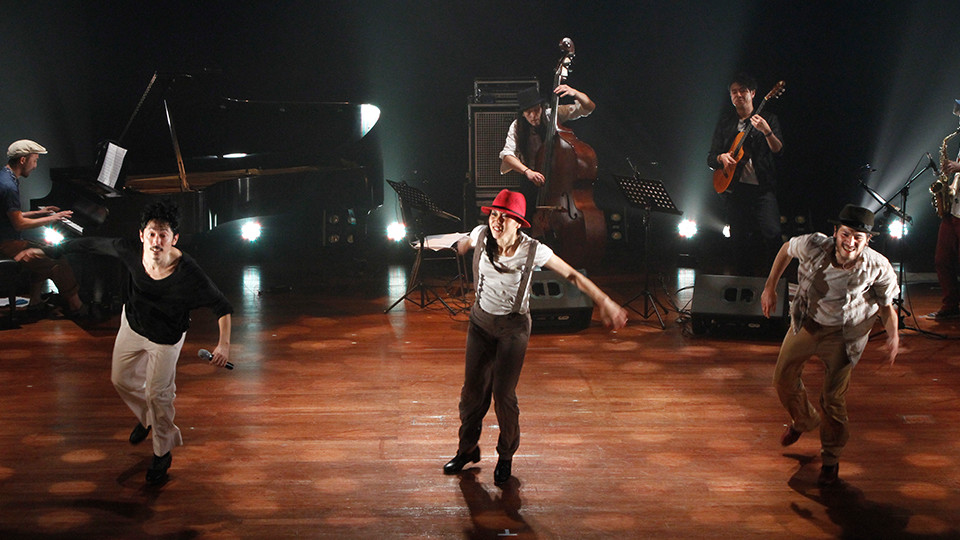 DANCE DANCE ASIA – Manila, Philippines (2015/01)
Post-Event Interview
TAPDANCERIZE / Manila has become a city to remember, Salamat po!
TAPDANCERIZE's tour of Manila was an especially memorable event as it marked the first time the dancers had presented their work as a group. How did they feel after pulling off a captivating show and conveying the joy of tap to local audiences?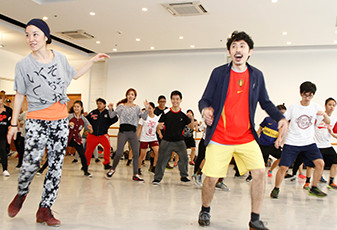 Has the image of the Philippines changed after visiting the country?

Uragami : I could really feel the powerful energy of people in Manila very much.
I could really feel people are coming to enjoy the workshop and the stage from their heart. We had a really nice reaction from them.
We made a good start as TAPDANCERIZE and Manila has become a city to remember.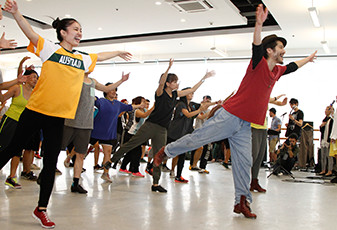 How was the workshop?
Gunjo : I cannot speak English at all, but I could communicate through body language and dancing. The very good part is that people are very energetic here.
Rather than trying to dance well, people are passionate and energetic about enjoying every part of it and I felt the unique energy.
We also took a lot of energy in teaching the workshop, but it was very fun. To be honest, I had an image that Manila may be a bit dangerous place and a bit scary, but people were always smiling and were very honest. I really had a great time.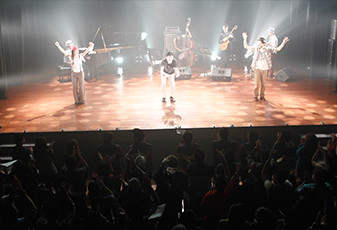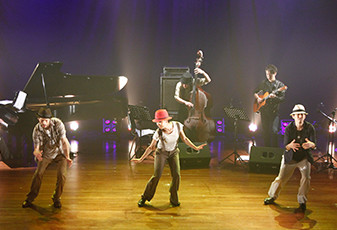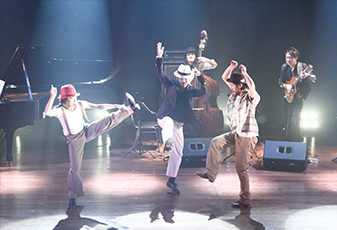 How do you feel after the performance is over?
Toma : I was very nervous. The stage was not too big, so I could see the faces of the audiences and could see that their eyes were shining. That was very impressive. It was also something very new to me that I get the instance reaction from the floor. After the performance, I could grab it as my experience that Japan has its own virtue and the other countries have virtue of its own.
Yozo : We had a really good reaction from the audiences. But the Japan Foundation Manila office's staff told us that the audiences do not just react to whatever the performance is, but their reaction is very straightforward whether it is good or bad. Having heard that, I was happy that we felt complimented. It was very comfortable to play the music.
Sata : My impression is that the people in the Philippines are very emotional and positive. During the performance and the workshop, we had a very direct reaction from the audiences and participants. I think people have felt the groove of the sound and tap dancing that TAPDANCERIZE creates. Even when I am walking outside, people in the Philippines were very open and they approached from them. I got so much energy from the people in the Philippines! Thank you so much!
Sunayama : First of all, it was also a first trial for TAPDANCERIZE to perform together. So it was very inspirational to see the dancer dancing and playing as we are listening to other sounds during the rehearsal. Whenever I do it, I felt different sensation while I was playing. I myself felt that we could do this in Japan or wherever it is. It turned out that the first performance was in the Philippines and what we did in our stage made us confidence.
Takeru Yamazaki : Before the stage began, I could see that many audiences had a taste of street dancers. So I was not sure how they react to our tap dancing and live music. But we got superb reaction and it was really nice. I also like the rice here, which is not sticky, but rather dry, it was delicious!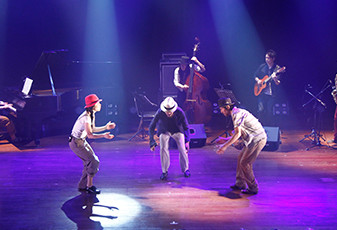 What did you try to achieve from the performance?
Uragami : What we have been trying to achieve is the fusion of dance and the music.
It was 35minutes piece this time. In there, we concentrated what we think is beautiful, cool and inspiring on tap-dancing. The reason why we put "Simplyfill of Tap" is that we wanted to create a stage that is very simple ever. That was our challenge.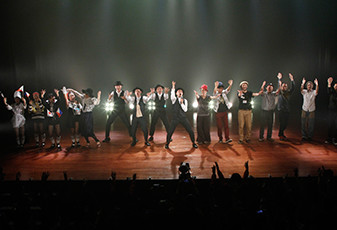 How was working together with the other dance groups?
Gunjo : It provided us a really good inspiration. I have seen their performance for the first time. It is really all about believing in what we do, but when we saw the other pieces, in a good manner we thought, " we will do it, too, tomorrow!" It was very entertaining to see the performance since they were carefully calculated. At the same time, by seeing the other stage, we could reconfirm the essence of our stage and performance by comparing to theirs.
Toma : I was having a conversation with s**t kingz and we were wondering how would people in Manila understand dramatic scenes and emotional expressions, which are explained by void or lighting expression or the atmosphere. I was actually watching from the floor and it was really interesting to see the audiences' reaction. It is in a way universal how people feel it but it is very different how to express it. That was one of the things that I learned from this tour. TOKYO GEGEGAY and s**t kingz are one of the dance groups that represent Japan. It was very inspiring for us to be able to stand on the same stage and every time I learned something. It provided us an opportunity to rethink where is our focus during the tour. Thank you thank you so much for letting us be part of it. Salamat Po!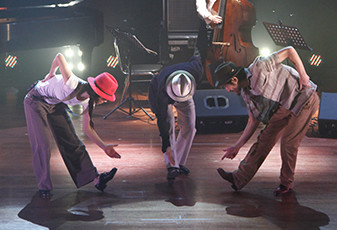 ■ What do you look forward for DANCE DANCE ASIA and is there anything you would like to try?
URAGAMI : If possible, I would like to try out for our solo stage. We are not yet sure if our performance as a package could be seen as an art piece or not, so we do have a goal that we would like to do the stage in countries not only in Asia. I would like to really go for it since it would be a more difficult challenge than the 35minutes piece this time.
Posted – 2015.02.28
This post is also available in: Japanese
ARCHIVES