DANCE DANCE ASIA – Jakarta Tour
Pre-Event Interview
Red Print / "Making people happy with comedy!"
In Red Print, female dancers working in many different genres fuse dance and theater. It's only been a year since the team was formed, but they are already gearing up for a Jakarta tour, and we spoke with members about their feelings on the eve of the tour.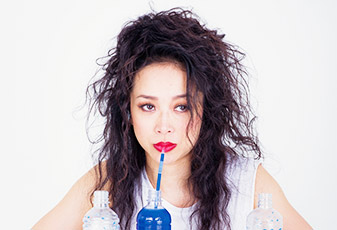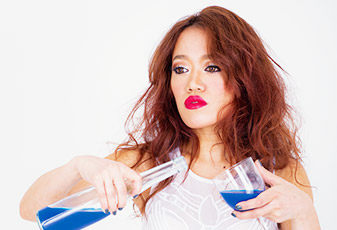 What's your impression of Jakarta?
MIHO BROWN : My image is of a very exotic place, even compared to other Asian cities, but I don't know too many details about it. I want to take this opportunity to get to know the people of Jakarta, who are also my fellow Asian people.
NANAKO : When I was looking it up, I found that they have JKT48 [a Jakarta version of the Japanese female idol group AKB48], so I got the impression they're friendly toward Japan and should be easy to get to know.
Mari Kikuchi : I picture it having a lot of greenery and a tropical climate, with lots of tasty dishes like nasi goreng that I can't wait to try. I love Indonesian food!
Yuffy : My impression is that it's a place of mystery, and I want to explore, or express, mystery in our performance there. I hope I can get to know the culture more deeply.
Saya Hattori : When I think of Indonesia I think of a resort, because I went to Bali on a family trip as a child. This time I'll be going as an adult, and I want to enjoy it in an adult kind of way, and also do my best as a performer.
CRAZY SHIZUKA : When you ask people working in Japanese companies and so on, "What part of the world is 'hot' right now?" you often hear "Man, Jakarta is hot!" Like exciting, I mean, not the temperature. The dance scene there is heating up too, and I was already taking an interest in Indonesia before this tour happened. I hope that by traveling there on this tour, we'll be able to jolt Jakarta with something new and exciting.
Emi Maruyama : To tell you the truth, I don't know anything about Jakarta! But in the future I hope to study the Indonesian language and communicate with Jakarta's people, and find some kind of common ground between Jakarta and Japan.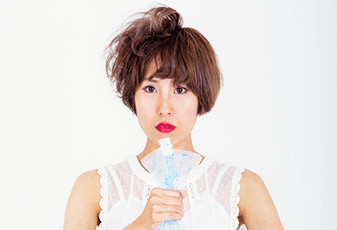 What kind of team is Red Print?
MIHO BROWN : We have a lot of variety in our members' backgrounds, from jazz dance to street dance. The scope of what we express is very broad as well. Sometimes the artists tell a story together through performance, and other times individual dancers do solo improvisations.
Saya Hattori : We're a group of dancers who have always wanted to act, too, and once a week Ozeki-san (Red Print's producer) directs us in a theater workshop. We all share a dedication to the spirit of theater, and we each search for our own ways to fuse that with dance.
Style-wise, comedy is what we're all about. We try to put together works that keep people smiling all the way through.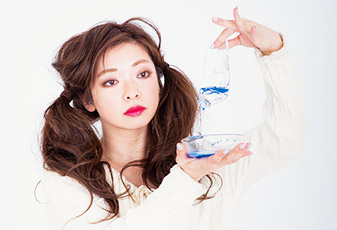 What do you hope to get across with your performance?
MIHO BROWN : Something universal, I'd say. People's cultures and languages may be different, but a laugh is a laugh all over the world, and I think dance can reach anybody in just the same way. What we're after is something universal and really powerful.
In both the workshop and the performance, I hope we can enjoy it together with the audience and participants, make new discoveries and form new bonds. I want to convey new things to them, like music they've never heard, choreography they've never experienced, and new ways of responding to sounds, and at the same time I want to see what their response is to the things I enjoy and admire.
People with different languages and cultures may react to things differently, but we're all human, and this should be a great opportunity to realize that music and dance have no borders!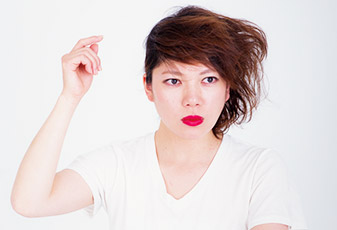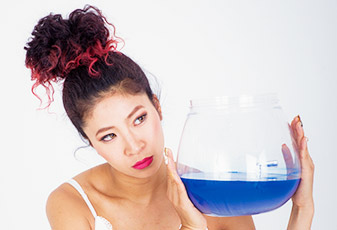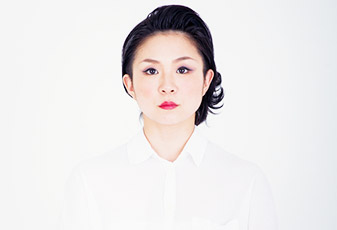 Can we have a message for the people of Indonesia?
Emi Maruyama : We hope you enjoy the world of Red Print to the fullest!
CRAZY SHIZUKA : I think what we do best is pour our energy into making people happy, and just like always we intend to go all out and express ourselves as individuals and as a team. We all have different styles and personalities, and we hope you'll get to know us and like us!
Saya Hattori : Red Print is a young group that's only been together for about a year. As we join in this DANCE DANCE ASIA program, we're still in the process of exploring our style and working hard to make our act the best it can be. I think this will be a terrific opportunity for us to improve ourselves, by drawing on the vitality of Jakarta's people and carrying it back to Japan with us, and we want to absorb as much as we can of Indonesia! We can't wait to meet you.
Yuffy : The pieces Red Print will be presenting are ones we're confident about and are sure you will love, so we hope you'll catch both of them! What we want to do is unite the people on stage with the ones in the audience, and I'm sure everyone is going to have a great time.
Mari Kikuchi : All seven of us have different personas and are trained in different dance fields, but when we all get on stage together it produces a major chemical reaction!
We'll make sure that everyone who takes the time to come to our performance or workshop goes home with a smile! And we intend to put on a show that will leave that feeling lingering for a week, a month, a year afterward.
NANAKO : This is Red Print's second work for the stage. It tells a story, primarily through dance. The conclusion… might be a big surprise! So we hope you won't miss a minute of it. We hope you enjoy it as much as we do.
MIHO BROWN : All of us love dance, theater, and comedy, and each of us goes wild for the things we're crazy about and the music that moves us. We hope that comes across to the audience. I think the most important thing is, how much can we share, how much can we empathize with one another as human beings?
At the workshop we want to come face to face with participants and interact on a level that isn't possible during a performance, where one side is performing and the other side is watching.
On the stage, we're going to throw the dance, music, and comedy that we believe in out to the audience [laughs], and we hope everyone will catch it and have a fantastic time! Looking forward to seeing you!
Posted – 2015.08.19
This post is also available in: Japanese
ARCHIVES