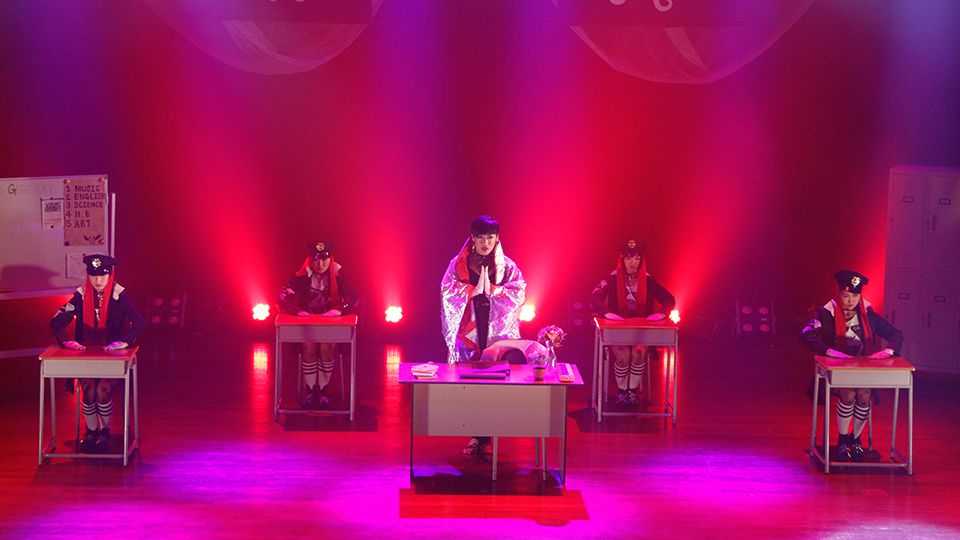 DANCE DANCE ASIA – Manila, Philippines (2015/01)
Post-Event Interview
TOKYO GEGEGAY / Touched by people in the Philippines.
In a work titled TOKYO GEGEGAY Girl's School, which employs a unique world-view and choreography to depict a single day at an imaginary school, TOKYO GEGEGAY burned down the house in Manila. Not only did the group perform on stage, but they also used the streets as a site for cultural exchange, dancing for local children in the city. Here, they share countless memories from this stimulating trip.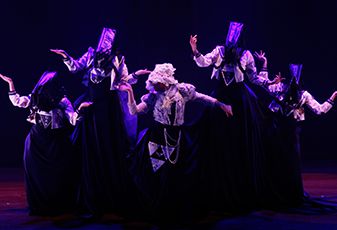 What message did you convey in the Manila's stage?
MIKEY : In fact, I did no have such a message that I would really like to tell, but instead I wanted to create something that has movement and development and something just interesting. Since it was rather a long piece of 20 to 30 minutes, I put the concept "school's open day" in Japan. Of course we do not have such " school open day" or classes as that of the stage in Japan, but I wanted the audience to feel that they came to see the school's lesson. So the audience could experience 1 day of what we call "Tokyo GEGEGAY girl's school" with amusing greeting from the morning until after school activity in the end.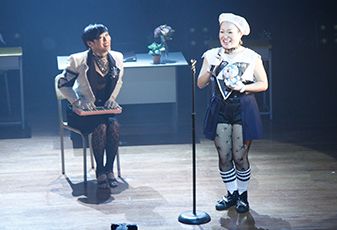 Your stage always has a unique concept. Do you have something you particularly care about when creating a piece?
MIKEY : First of all, the point is whether I can enjoy it or not. And then, recently I try to feature on the originality of each dancer. BOW certainly do have her character setting and is easy to feature her as the punch line of the joke. YU-YU has very Japanese characteristic with her black hair. When she met with the children and the participants from the workshop, everyone said " oh she is so cute". MIKU has very high physical skill where she can jump very high which is probably the double of the height BOW can jump. MARIE actually is better not dancing too energetically. The stage staff commented that they like MARIE's dance very much as somehow her style is passionate but gentle at the same time. I think I now know which direction to go for after this stage.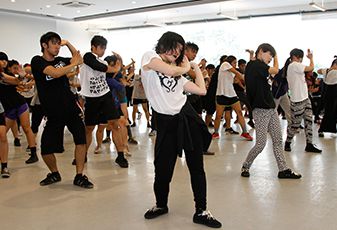 Has the difference of image of the Philippines changed before and after visiting the country?
BOW : I was not sure if I can communicate well with my English. But I danced with the children and people saw me dancing. So I was glad that I could communicate with the people. Now I am more confident with my dance. There were situation where we could communicate through the body language and dance is in a way a body language. By dancing, we could really get together. I was very happy for that.
MARIE : It may be because of the warm climate, there were so many energetic people. And people were very nice to the Japanese. I had this impression that people in the Philippines are very nice. People are very gentle and always smiling. That impressed me very much and I felt we were welcomed.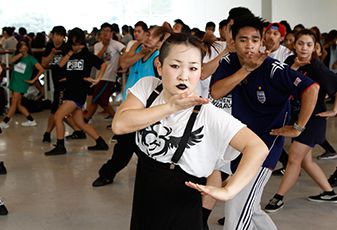 How was the workshop?
YU-YU : It was usually we have MIKEY's workshop and we were taking part as assistants. So it was the first time to do the workshop as TOKYO GEGEGAY and the first time was in the Philippines. I was unsure about it since I can not speak English. But when I just saw them some routines, people get exited and I was very happy for that. As every one get excited, we also got excited and then the participants get more excited— I could feel the energy flowing and circulating and I really enjoy it. It was the first time to do the workshop as TOKYO GEGEGAY and teach routines one by one. We get more excitement and reaction compared to Japan, so we really enjoyed it and I think the participants enjoyed it, too. We were very happy for that.
MARIE : People could get the routine very quickly and articulately. I thought people have a better ear for music compared to Japan.
MIKEY : Indeed, among the people who cannot dance, I did not see so many people who have bad ear for music. Basically people listened carefully and had groove within them.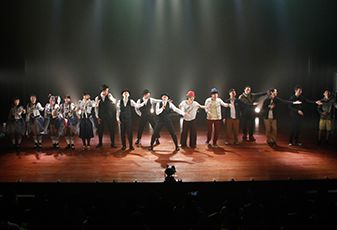 How was working together with the other dance groups?
MIKEY : I was watching TAPDANCERIZE performance from the side of the stage, it was really nice that there was live music. I felt as if it was a live music performance rather than just a showcase. This time we performed separately, but I thought it would be nice if the dancers could make a short scene for joint performance. For example, s**t kingz could show up at the TAPDANCERIZE or they could show up in the TOKYO GEGEGAY's performance as high school students. I had all the imagination when watching the other's stage. I wonder how the audience saw the balance of the three stages. It was all very different so I hope people enjoyed.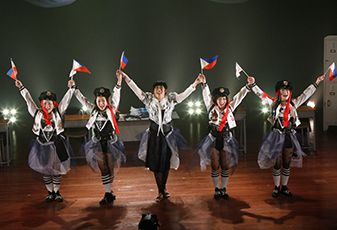 What do you look forward to for DANCE DANCE ASIA, which continues till 2020? Is there anything you would like to try out?
MIKEY : This time I was very touched when we were dancing with the children on the street and communicating with each other. It is something we cannot do so often and may be it is more difficult than just performing on the stage. It may be very special case that the children see our dancing than us performing on the stage. So I would like to meet children and dance together with them in other countries for the next DANCE DANCE ASIA. I would also like to reach out for those who cannot usually come to the stages to see us dancing. And if possible, I would like to perform together with the children on the stage. What we do it "Street" dance, so we practice on the street and it would be just nice to perform it on the stage.
Posted – 2015.02.28
This post is also available in: Japanese
ARCHIVES