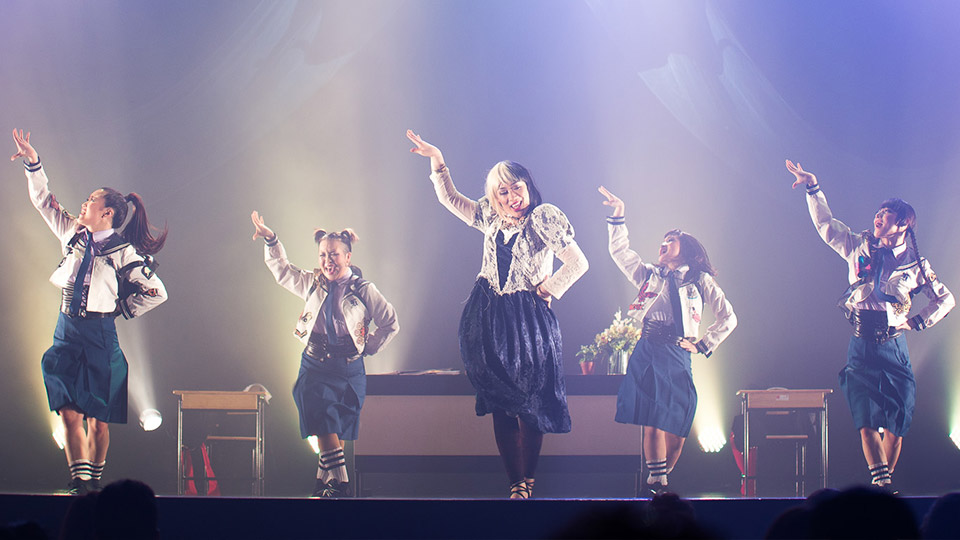 DANCE DANCE ASIA – Bangkok, Thailand (2015/03)
Post-Event Interview
TOKYO GEGEGAY / Wherever you go in the world, what matters are the people around you.
The members of TOKYO GEGEGAY collaborated with local children and dancers on creating a dance piece, the first endeavor of its kind during DANCE DANCE ASIA. We spoke with TOKYO GEGEGAY leader MIKEY about what the process was like behind the scenes, and what drives the group creatively.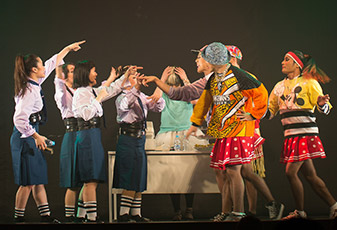 This was your second DANCE DANCE ASIA tour, after the Philippines. Talk to us about what you did differently in Thailand.
MIKEY : In Thailand we engaged more with the local people through dance. We choreographed a piece with local kids and appeared with them on stage, and collaborated with a Thai dance group called THE ZOO Thailand.
During the first tour, in the Philippines, we got to talking with some kids playing in the street, and right there on the sidewalk we put on some music and danced with them. That was a really inspiring encounter and a lot of fun. We got the idea that we wanted to dance with local children next time, and that led to us staging this performance.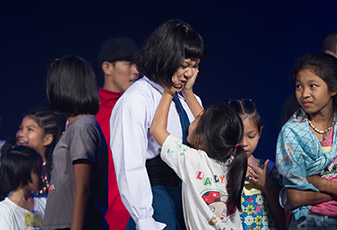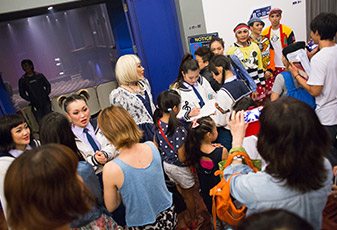 What was it like when you actually engaged with Thai children?
MIKEY : Before we met them, we heard from the staff, "These are kids who have never rehearsed or practiced before in their lives, so they might not show up for rehearsals properly. They might not even appear for the actual performance." I felt like, well, that's all right, as long as everyone has a good time.
When we actually started rehearsing, though, they threw themselves into practicing even more than I expected. Even outside of the rehearsal periods we had set aside, they practiced on their own. They were really enthusiastic.
All we were looking for was for them to experience dancing and performing, and we thought it would be fine even if they couldn't really dance much to speak of. But as we watched them, kids who hadn't been able to do something the day before were doing it, and it was obvious they were practicing on their own initiative. That was really wonderful to see. I was bowled over by their energy, like, "We want to dance more, more!"
As it turned out, there were hardly any children who dropped out before the main event. The first day of the performances, I was blown away at how boldly they danced and how much they were enjoying themselves. When I first met the kids, they were nervous and seemed to be like "What are these adults going to do to me?" On the second day of practicing, though, when I showed up they all crowded around me enthusiastically, and I thought to myself, they seem to be getting something out of this! I was delighted. We established a closer and closer bond, so that by the time we had to part ways I felt a pang of loneliness.
I gather that after participating in DANCE DANCE ASIA, some of the kids have decided they want to be dancers when they grow up. That's so wonderful.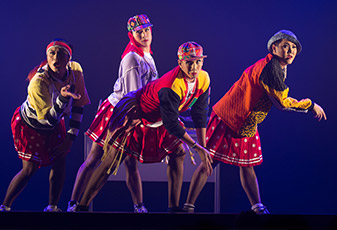 How did you end up working with THE ZOO Thailand?
MIKEY : When we were in Manila for the last DDA tour, we had the opportunity to meet some local dancers, and got the idea that when we went to Thailand we'd like to collaborate with some local professional dancers. However, we wanted the whole production to take place in the world of TOKYO GEGEGAY, so the whole thing was contingent on finding male dancers willing to wear girls' sailor-style school uniforms––if there were any out there that would enjoy such an experience, that is. And lo and behold, THE ZOO Thailand guys jumped at the chance. I thought it would be a shame if dressing in drag dampened their enthusiasm, so when planning things out I told them it was up to them, whether they wanted to do it in drag or in their ordinary style, but they said "We'll do the drag thing! We'd love to, in fact!" (laughs)
They aren't gay, and of course they don't usually wear women's clothing, but they did a fantastic job when the time came, and got right into our "world." That's the mark of true professional dancers.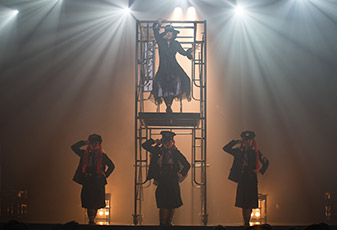 How did your performances in the Philippines and Thailand differ?
MIKEY : We had heard that the Japanese character Doraemon [a cat-like robot from the future] was really popular in other Asian countries as well, and we put a scene in the performance that involved singing the Doraemon theme song in a school music class. In the Philippines we danced while hugging Doraemon stuffed animal, but in Thailand we found an even bigger Doraemon doll for sale, and we changed the scenario so that a giant Doraemon dropped down from above. Also, in the Philippines we wore Japanese school uniforms, but in Thailand we found that the girls' school uniforms had really cute colors and styles, so we wore those instead.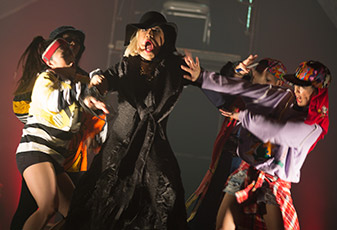 What are the biggest differences between the Philippines and Thailand overall?
MIKEY : More than the differences, I felt the similarities. The difference between, say, Filipino and Thai people is just language, but the thing that's important wherever you go in the world is the people around you, each of whom is a unique individual. I couldn't tell you about differences between this nationality and that. Instead, the experience reinforced my feeling that the world is made up of individual people, not countries. In fact I feel that every time I travel somewhere overseas.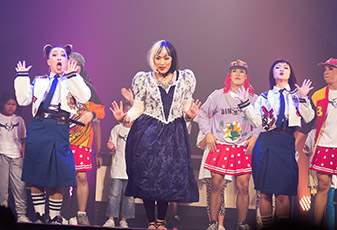 What are your thoughts on future collaborations with dancers from elsewhere in Asia?
MIKEY : We would absolutely love to do more. And it would be great if people would come from other Asian countries to Japan and we could interact with them here. Dance together, and also go out on the town.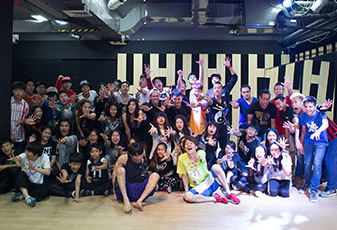 Let us know a bit about the outlook for the future.
MIKEY : Every time we choreograph and arrange a new piece, I get the sense that I'm really bad at looking at things from a commercial perspective. All kinds of industry insiders give me advice, like "You would do better commercially if you did this," but I can't work that way. At one point I felt like I might not be cut out to be a professional performer. Sometimes I want to sing, other times I want to produce, other times I want to dance myself, and I thought that being driven by your emotions and moods that way meant I wasn't ready for the prime time.
Over the past couple of years, though, I've been feeling like, why not? After all, it's my life. I don't have to cater to people around me, I can be true to myself and create things honestly. I want to create, dance, sing, and so on, the things that I really feel.
Posted – 2016.08.26
This post is also available in: Japanese
ARCHIVES